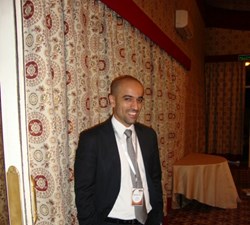 From: Yemen
Graduated: 2010
University: London School of Business & Finance
Course: MBA
After qualifying with an MBA from the London School of Business & Finance in 2010, Abdul was employed by the Shihab Insurance and Trading Agencies Ltd, Deloitte, UNITE Group plc (UK). He then moved to the Yemen MicroFinance Network where he worked as a Financial Controller. He is now a Finance Manager for 'Yemen Education For Employment'. Abdul's long-term objective is to become a highly-skilled financial analyst and start his own financial consulting firm.


EXPERIENCE
Financial Analyst
Automotive Enterprise Co - Dammam, KSA 
Sep. 2015 – Current

In charge of financial analysis, which includes preparing the periodic financial analysis of the company's performance (sales, returns, inventory…etc)

Also in charge of the new financial system migration, which includes:
Testing the software to make sure it suits the company's needs.
Extracting all historical data and importing it in the new software.
Testing different point of sales to choose the one most compatible with the industry.


Financial Consultant - Freelance
Insight for Research & Consulting - Sana'a, Yemen
Sep. 2014 – Apr. 2015

Covers the financial aspect of the projects & feasibility studies, which include but not limited to the following:
Estimate the different expenses related to the project.
Prepare the financial statements projections.
Calculate IRR, Payback Period & financial ratios.
Prepare multiple scenarios in term of (price & financing).
Provide my recommendations based on the findings of the analysis.
Financial Manager
Yemen Education For Employment - Sana'a, Yemen
Apr. 2013 – Apr. 2014

Achievements:
Monitor and review system reports accuracy and completeness.
Prepare financial reports for top management and donors.
Interact with external auditors in completing audits.
Ensure compliance of all expenses with grant's policies.
Supervising all finance and administrative operations.
Acting on behalf of the CEO on all internal and external matters during his leave.
Funds Managed:
CLP ($850k), MEPI ($515k), UNDP ($200k), ILO ($80k) & Chemonics ($576k).


Finance Controller
Yemen Microfinance Network - Sana'a, Yemen
Jun. 2011 – Present

Achievements:
In charge of transparency in the microfinance sector in Yemen through collecting
financial data from microfinance institutions and assisting them in completing the
periodic financial reports for reporting to Mix Market and other stakeholders.
Responsible for SEEP forecast and analysis of data for members, and facilitate trainings
of finance managers of network's members on microfinance reporting and industry
standards.
Monitor budget variances, prepare reports of approved and actual expenses on monthly
basis and assist the management in preparation of annual budgets.
Maintain fixed asset register and inventory of all office supplies.
Evaluating & updating the network financial & administrative procedures.
Funds managed:
UNDP ($750k) & SFD ($550k).


Budgeting & Planning Manager
Shihab Insurance & Trading Agencies (Yemen) Ltd - Yemen
Apr. 2010 – Apr. 2011,

Achievements:
Established the budgeting and planning administration and designed the SOP of the
budgeting process.
Implemented, monitoring, and evaluating budget policies and procedures, plus provided
recommendations where needed.
Accurately prepared revenues and expenditures projections, and analyzing their financial
impacts on the company's performance.
Managed the budgeting process in the ORACLE ERP system and ensured the accuracy of
the data uploaded and the efficiency of the reports.
Reviewed staff reports relative to their budget impact, worked closely with staff to
resolve problems and discrepancies, and provided the required training and guidance to
ensure the accuracy of the reports submitted.
Participated in the initiation of the DBI operation in the ORACLE ERP system.
Acted as a financial consultant to the top management, which included preparing various
types of analysis reports, and participating in foreign correspondence.
Auditor (Internship)
Deloitte & Touche - Sana'a, Yemen
Jan. 2010 – Mar. 2010

Worked "full time" with the Compliance Audit team, and performed auditing in:
YLNG (Payroll: Time Right Share).
SINOPEC (Bidding, G&A).
OMV (Consultants).


EDUCATION
London School of Business and Finance
Master of Science in Finance
Sep. 2008 – Sep. 2010 Grenoble Graduate School of Business & London, UK

University Cairo, Egypt
Bachelor of Science in Accounting (English Department)
Sep. 2003 – Jul. 2007
AWARDS & ACTIVITIES
Sep. 2008 MBI Foundation Scholarship London, UK
postgraduate scholarship
Jul. 2005 October 6 University and Graduate School of Business Warsaw, Poland
Economics summer scholarship
2004 - 2007 Student Culture Committee Cairo, Egypt
Board Member (voluntary)


KEY SKILLS
Languages: Arabic (Native) - English (Fluent) - French (Basic)

Software:
Yemen Soft Accounting System – GL 7.
QuickBooks Enterprise 16.
Microsoft Dynamics AX.
Oracle ERP.
MS Word, Excel, & PowerPoint