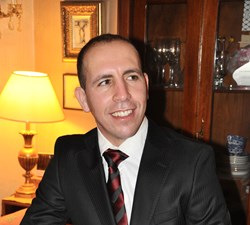 From: Algeria
Graduated: 2010
University: MODUL
Course: MBA Tourism Management
Experience
Duty Manager
Vienna Marriott Hotel, Vienna
Oct 2015 – Present
Operations:
Responsible for the overall operations management and overseeing guest satisfaction and safety.
Ensure SOP and LSOP implementation in all departments
Maintain a professional and high quality service oriented environment at all times.
Lobby Lizard Program: Coordinating and multi-tasking job duties in a busy environment, including working on reception, concierge and bell captain, restaurants and housekeeping
Guest relations
Build and maintain relationships with internal and external guests
Promote and maintain good public relations.
Welcome guests to the hotel in a friendly and helpful manner
Handling guest complaints and concerns in an efficient and timely manner.
Administrative Duties
Customer Care and Guest Voice Program
Art Of Hosting Program
Contribute to the daily briefing
Night Auditor
Vienna Marriott Hotel, Vienna
Apr 2014 – Sep 2015
Duty manager responsibilities dealing with public relations, complaints, problem solving, disturbances and special requests
Manage and monitor front office department
Coordinate with all other hotel departments, direct and oversee all hotel operations during shift to ensure guest satisfaction and safety
Inform overnight staff of nightly activities, group and VIP arrivals, as well as special requests and repeat guests
Implementing and enforcing financial controls, ensure the accurate completion of the daily night audit and overseeing preparation of daily reports
Marketing & Sales Manager
Wiener Mozart Orchester Konzertveranstaltungs, Vienna
Apr 2011 – Apr 2014
Market analysis and responsible for customer profiles in the Arabic, French, Italian and Spanish speaking areas
Implementing company strategies, financial controls and preparation of daily and monthly reports
Assisting in web design
Research Intern
Higher Institute on Territorial Systems for Innovation, Turin
Jun 2009 – Sep 2009
Member of the research team of the Innovation and Development Area. Involved in the project "Visitor Management in the Piedmont region". In charge of the following tasks:  Market analysis and responsible for customer profiles in the Arabic, French, Italian and Spanish speaking areas
Web-metrical analysis for bench marking research studies
Tourist data analysis of the Piedmont region
Lime Survey tasks
GIS and use of GPS-data logger
Database set-up and management
Trade Manager
Tropic Tours, Setif
Jul 2008 – Jan 2009
Customer acquisition
Offer submission
Contract negotiation
Follow up sales
Daily reporting
Publication Manager
Escale Magazine, Algiers
Oct 2004 – Jun 2008
Contract negotiation
Editorial lead
HR duties
Assistant Events Organiser
Algerian Ministry of Tourism, Algiers
Oct 2004 – Jun 2008
Event organisation
Travel co-ordination
Conference organisation and support
Staff management
Liaison officer
Content writer
Receptionist
Hotel Raggani, Setif
Oct 2004 – Jun 2008
Reception and concierge duties
Administration
database set-up and management
Retention and loyalty
Sales reports
Education
Modul University
MBA
2009 – 2011
University of Catania
International Masters
2008 – 2009
The National Superior School of Tourism
BA in Tourism
2004 – 2008
Work School of Setif
Computer Degree
2003
Languages
Arabic: Native or bilingual proficiency
French: Native or bilingual proficiency
English: Full professional proficiency
German: Full professional proficiency
Italian: Full professional proficiency
Spanish: Working proficiency