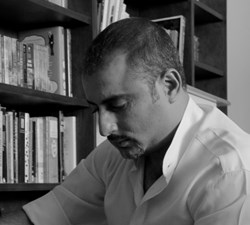 From: Jordan
Graduated: 2002
University: SOAS
Course: MA Ethnomusicology
While studying for a postgraduate degree in Ethnomusiology at SOAS, Tarek said that if it were not for the existence of the MBI Al Jaber Foundation scholarship programme, he would not have been able to finance the expense of taking his degree in London.
He hoped that the degree would provide a stepping-stone for future research.
Tarek is now the Regional Representative and Head of Music for a British theatre company that aims to promote the building of bilateral ties between the UK and the Middle East through theatre and cultural interaction.
He is a Music Composition and History lecturer at Jordan University's new Faculty of Music and also a consultant Ethnomusicologist for the Information and Research Centre at the King Hussein Foundation in Amman and other institutions.
Tarek has produced and presented live radio shows concerned with classical music and local Jordanian musicians and composers.
After completing his postgraduate studies at SOAS, Tarek was involved in the Jordan River Foundation as a Lead Consultant responsible for the production of the soundtrack of a regionally pioneering educational travelling puppet show aimed at educating children against sexual abuse.
He created and organised a full educational music awareness programme for use by the Foundation's children's activity centre in the less economically fortunate areas of Amman and recently established the Amman Music Society which aims at presenting the best Jordanian Musicians to an appreciative audience by holding privately hosted recitals to paying society members.
Go to Tarek's official website