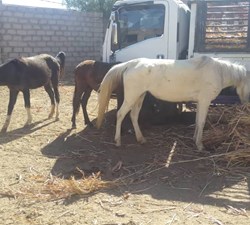 MBI Alumnus, Ahmed Abdulqawi Saleh, has recently been involved in the rescuing of 15 thoroughbred Arabian horses that were found starving in Al Bayda, Yemen. An international fundraising campaign was launched by One World Actors Productions-Animal Rescue (OWAP-AR), a charity devoted to the welfare of animals, and money was collected for the purchase of emergency fodder for the horses.
Ahmed was very touched by the initiative and decided to contribute. As Ahmed's uncle lives in Hodeidah, where he owns a farm, he was able to deliver the fodder from Hodeidah to Al Bayda, which also happens to be Ahmed's birthplace. The two cities are quite a distance apart and Ahmed's uncle travelled approximately 296 km (184 miles) to deliver the food for the horses.
The OWAP-AR has already come to the rescue of 310 neglected Arabian police horses in the capital city of Sana'a. The Yemen blockade prevents the OWAP-AR from evacuating these animals to safe places abroad so the charity is endeavouring to keep them alive on-site. The organisation depends entirely on people's donations to maintain their mission. They are now urgently calling on all fellow animal welfare and rescue communities for vital donations to keep these 'war captives' alive with more emergency relief food, water, veterinary care and seeds for their self-sufficiency fodder plantation project until peace is restored to Yemen.
Ahmed completed an MBA at the London School of Business and Finance in 2010 with an MBI Al Jaber Scholarship and has since been employed as a financial analyst.
Congratulations to the OWAP-AR and Ahmed for this amazing intervention and collaboration!