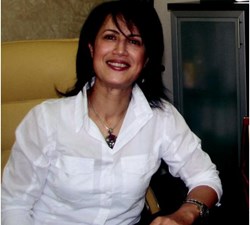 MBI Alumna Rana El-Akhal has recently had the opportunity to organise the 10th Mediterranean Women Entrepreneurs Forum entitled "Women in Tech: The Way Ahead", which took place in the Amman Chamber of Commerce Theatre on Tuesday and Wednesday, 2nd – 3rd October, 2018.   
Rana publicly thanked her colleagues at the Forum saying: "We have entered this experience as colleagues and we have come out of it as members of a giving and tireless family that will, by all means, continue assisting Jordanian women entrepreneurs in opening new markets for themselves and support them in innovating their work at home".
We send Rana and her colleagues our very best wishes!
Thanks to an MBI Al Jaber Scholarship, Rana pursued a Diploma in Development at LEAD in 2004. Following her time at LEAD, she worked as a Planning Advisor for the Minister of Higher Education and as Chief Executive Officer at Jordan's Forum for Business and Professional Women until forming her own consultancy, 'MEDAL Consult', in 2007.