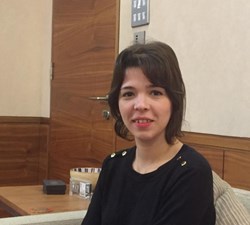 The MBI Al Jaber Foundation had the pleasure of a visit from Fatma Zohra Naili, an alumna who received a Foundation scholarship in 2016 and graduated from her Diploma in Communicative Japanese at SOAS, University of London, in 2017.  Before coming to London, Fatma studied Law immediately after achieving her Baccalaureate and, afterwards, studied Korean and Japanese at the University of Algiers 2. She herself has taught Japanese in their Intensive Language Centre.
Fatma's current aims include working in either Europe or Japan in order to save money to make her own project a reality: establishing a school of languages or a translation office. At the same time, she is looking into the possibility of pursuing a Masters or PhD by applying for grants to various Japan-related institutions. Fatma and her students in Algeria are also planning for an upcoming event in December, after the one she already organised (https://www.youtube.com/watch?v=lYoxK_jRbYw&fbclid=IwAR3oruIq65qP65qHI4S6zF3q82KvBBOZdKN8Rd_jVe9T7T7KSeMDDNgy3mw), which will showcase artistic expressions of both Algerian and Japanese cultures, at the Centre of Algerian Theatre.
During the meeting that Fatma had with the Foundation, she mentioned how confident she has grown that her mission lies in fostering cultural exchange, making education increasingly available to people in her country of origin. The MBI Al Jaber Foundation team is very proud of having enabled students like Fatma to have pursued their dreams!
Best wishes to Fatma for her future projects!