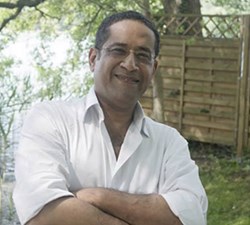 From: Egypt
Graduated: 2001
University: SOAS
Course: MSc  Development Studies
After completing his MSc in Development Studies 2001 at SOAS, Ahmed moved to Berlin in 2001 where, until 2005, he worked as a Research Associate at the Middle East unit of the German Institute for International and Security Affairs (Stiftung Wissenschaft und Politik).
He was Project Director (Israel/Palestine) at the Oxford Research Group (2007-2009) and a Research Associate at the Institute of Development and Peace, University of Duisburg-Essen (2005-2007), where he co-directed the project 'Beyond Managing the Israeli-Palestinian Conflict: Towards a New People-to-People Agenda'. Then he worked as a Senior Analyst at the International Crisis Group's Middle East and North Africa programme (2010-2011), and as Research Associate at Zentrum Moderner Orient (2011-2012), where he focused on the policy-relevant representations of the West held by contemporary Egyptian Islamists.
Currently, Ahmed Badawi is the Co-executive Director of Transform: Centre for Conflict Engagement and Political Development, a Berlin-based organisation which he co-founded in 2007. Ahmed acknowledges the support of the MBI Al Jaber Foundation, stating that it provided him with the opportunity of spending a crucial and most rewarding year at SOAS where his learning curve was steep.
Experience
Co-executive Director
TRANSFORM: Centre for Conflict Analysis, Political Development and World Society Research
May 2011 – Present

Senior Analyst, Middle East and North Africa Program
International Crisis Group
May 2010 – April 2011

Project Director (Israel/Palestine)
Oxford Research Group
May 2007 – April 2009

Research Associate/Co-project Director
Institute of Development and Peace, University of Duisburg-Essen
2005 – 2007

Research Associate
Stiftung Wissenschaft und Politik
2001 – 2005
Education
PhD, Social and Political Science
Humboldt-Universität zu Berlin
2004 – 2011

MSc, Development Studies
School of Oriental and African Studies, U. of London
2000 – 2001

Post-graduate Diploma, TV Features and Documentary Production
University of Salford, School of Media, Music and Performance
1999 – 2000