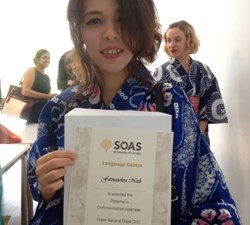 From: Algeria
Graduated: 2017
University: SOAS
Course: Diploma in Communicative Japanese
Fatma has a Diploma in Communicative Japanese gained at SOAS, University of London in 2016-17. In her hometown, Algiers, Fatma studied Law immediately after achieving her Baccalaureate and, afterwards, studied Korean and Japanese at the University of Algiers 2. Her main aim is to help generations of young Algerian language students familiarise themselves with Japanese culture, which Fatma deems to be an inspiration and a role model for her own country.
Fatma Zohra Naili is an example of a young woman with difficult life conditions who will not give up on her studies and who has decided to make a difference to her own life and that of other young people in Algeria. She is currently working hard to start her own school of languages in Algiers, which is her own special way of sharing what she has learned.
Fatma stated: "My future plans are to start my own class to teach Japanese since there are a lot of young people who are interested in the Japanese language and culture, and these young people share the same vision as me.  We don't have limits to our dreams; we don't let the negative side take over and we believe in a better tomorrow, which we can create with our own hands.  It's not just a Japanese class; it is much, much more than that".
Read more about Fatma's experience with MBI
TV report about how Fatma and other young people are making an effort to promote Japanese culture in Algeria: https://www.youtube.com/watch?v=lYoxK_jRbYw&fbclid=IwAR3-mNw7zHtdA5RThbWhPGcI_6qjC0NELNN7uw08z80cw5aaXU_OasV5h-0 
Education
SOAS Language Centre
Diploma in Communicative Japanese
2016
University of Algiers 2 – Intensive Language Centre
Japanese Language
2015
University of Algiers 2 – Intensive Language Centre
Korean Language
2015
Université de la Formation Continue
Law
2012 – 2015