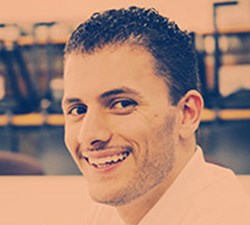 From: Libya
Graduated: 2013
University: University of Bath
Course: MSc in Digital Communications 
Education
PhD Engineering Management, University of York, United Kingdom (Feb 2015 - Present)
Research field: Qualitative case-based research to study, in-depth, areas of innovation, technology, and operations management.
MSc Innovation & Technology Management (ITM), University of Bath, United Kingdom (Sep 2013 - Sep 2014)
Dissertation project: Systematic Innovation: Factors Affecting TRIZ Adoption in The Context of Users with Limited Experience. TRIZ: A Russian term translated as "Theory of Inventive Problem Solving"; interviewing 13 TRIZ users (professionals, MSc, PhD) from University of Bath & Politecnico di Milano. The study received a positive feedback from innovation consultants in the UK.
MSc Digital Communications, University of Bath, United Kingdom (Sep 2012 – Sep 2013)
Dissertation Project: Computer-Assisted Recognition of Cetaceans in Sea-Surface Images. Supported by Seiche Measurements Ltd. The project investigated various techniques to recognise marine mammals on the sea-surface.
BEng (Hons) Electronic & Communications Engineering, University of Bath, United Kingdom (Sep 2009 - June 2012)
Dissertation Project: Using Adaptive Filters to Correct LORAN Signals. The Project focussed on using adaptive filter techniques to separate sky wave and ground wave in LORAN signals (Long Range Navigation).
Academic Awards & Achievements
Awarded the Student of the Year, voted by classmates during Master's in Innovation & Technology Management (2013-14).
Winner of the Academic Representative Outstanding Contribution Award by the University Student Union (2013-14).
The University of Bath, School of Management Academic Representative of the Year (2013-14).
Winner of the Academic Representative of the Year in the Electronic and Electrical Engineering Department (2012-13).
Received a Scholarship from the City of Bath College for Excellence Achievements (2008-09)
Work Experience & Internships
Graduate Teaching Assistant, & Writing Tutor, University of York (Oct 2015 - Present)
Teaching assistant and seminar helper for 'Operations & Project Management' Module for MSc students (running simulations demonstrating production line; push vs pull). Delivered at the York Management School.
Writing Tutor at York Management School: Module 'Understanding the Context of Business' delivered for first-year students.
Teaching Assistant at the Department of Electronics: module 'Strategic Management' delivered for final year undergraduate MEng students, leading lectures with discussing / seminar style reflecting on case studies of Google, IBM, and 3M.
Epos & Commercial Operations Assistant, University of Bath - Finance (Nov 2014 - Jan 2015)
Assisting operations at some of the main retail stores on campus which form part of The Co-Operative Group that involved looking at finance as well as IT functions.
Finance: calculating costing, margins, etc. With recommendation on multi-buy deals and promotional offers with regards to data from the Co-Operative Group.
IT: updating prices on EPOS (Electronic Point of Sales) for the actual retailers.
Summer Intern, Schlumberger, Tajura base, Libya (July 2010 - Aug 2010)
Full-time trainee in Drilling & Measurements (D&M) segment at one of the world's leading oil services companies.
Accomplished daily tasks included: assembling electronic devices and circuits, software installation, testing and checking offshore units and tool boxes. All of which were handled individually or under a supervision of a field engineer mentor.
Developed both technical and communication skills via delivering a presentation on "Azimuthal Density Neutron" (ADN) to the company's recruitment manager as well as the site field engineers and field services manager.
Projects
 SAMM: Sustainable Active Menu Management (June 2014)
Worked on a startup idea within a group of 4; the business model was designed for the restaurant industry to deliver cost reduction of food waste that helped the economy as well as the environment through a smart adaptive menu. The idea received the best project presentation by entrepreneurs and professors from SKEMA business school in Sophia Antipolis France.


Oomph - coffee bags! (March 2014)
Worked within a group of 5 members on a start-up business idea illustrating position innovation for putting fresh coffee into biodegradable bags similar to tea bags; presentation obtained distinction during commercialisation module at the university.


Low Cost Baby Incubator (Nov 2013)
The top performer in a team of 5 to consult with a medical engineer from Mexico about creating a non-profit baby incubator; we had to consider market research, a route to that market, fundraising, design, and patents; received a merit grade.


Lunar Robot (March – May 2013)
Involved in a group project of 4 with the Mechanical Engineering Department to design a "lunar robot". My role was tackling and challenging the issues of communications on the moon. The outcome was described as successful with an overall merit.


Programming (Sep 2009 – Sep 2013)
Good working knowledge of the MATLAB package for signal/image processing. This includes writing codes and programming for university course-works such as designing digital filters, signal processing analysis, simulations and edge detections for medical & synthetic aperture radar (SAR) images. Two dissertation-project were executed successfully using MATLAB.


Ultimate Shocking System; Group Design and Business Project GDBP (Feb – April 2012)
Led a team of 6 as a PM tasked with designing an 'ultimate shocking system', an electronic product that emits a range of sounds to scare harmful animals when they come close to unwanted regions. My responsibilities included weekly meetings to ensure milestones and objectives are met; also worked closely with the product manager to produce the final documentation.


The Electrical Mouse Race (Feb – April 2011)
A colleague and I developed a battery-powered vehicle; performed well in finishing "The Mouse Race" during 2nd year BEng.
Positions of Responsibility, Achievements & Skills
Rewards & Recognitions
Received the University of Bath, School of Management, MSc Dean's Award (2013-14).
Global Skills Award, in recognition of skills enhancement and extra-curricular achievements at the University of Bath (2013-14).
Networking, Representations and Public Speaking
Presented public talk for the TEDx University of York, mini conference, entitled: Journeys (Nov 2015).
University of Bath student ambassador representing the University during open days (Sep 2013) & (Sep 2014).
Usher at the University of Bath summer graduation ceremonies at the Bath Abbey (July 2014).
Leadership, Entrepreneurship and Commercialisations
Sponsorship Director at the University of York Futsal Club (May 2016 – Present)
Best start-up presentation during an international study tour to SKEMA Business School in Sophia Antipolis, France (June 2014).
Successfully completed Future Business Challenge and came in 3rd place; visiting Ted Baker London Headquarters (Feb 2014).
Co-founded with a colleague student events brand named SMB, bringing famous artists to our sell-out events, allowing me to gain entrepreneurship skills during my studies (2011-12).
Charities
Ran the BATH Half Marathon for SWALLOW, a charity who support people with learning disabilities (March 2014).
Participated in Diversity fashion show, a charity for UN WFP-world food programme targeting Syrian refugees (Nov 2013).
Sports
Football Captain for Research Students/Staff within the Department of Electronics, at the University of York (Feb 2016- Present).
Member and regular player at the squad for the University of York Futsal Club, Goalkeeper (Sep 2015- Present).
Playing football for the Afro-Caribbean student society at the university, first Goalkeeper (2009-10).
Languages
English: professional and working proficiency, Arabic: Native/bilingual proficiency