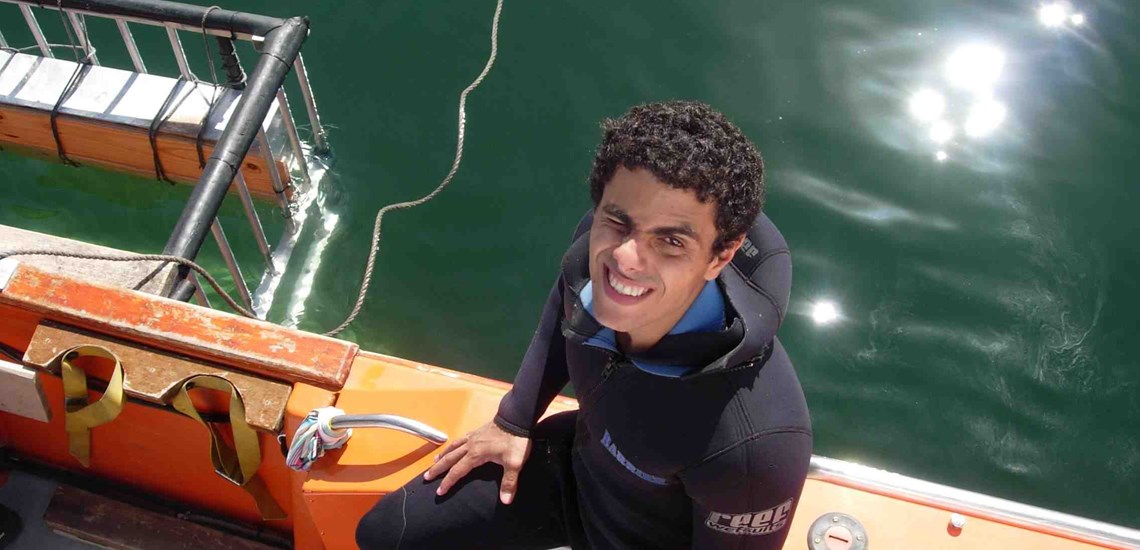 From Egypt to International Entrepreneur and Beyond
I grew up in Egypt, where I got my Bachelor of Science in Construction Engineering from the American University of Cairo. Following this, I left Egypt for around 10 years to develop my career, get more exposure, independence and build my work-life experience.
My first steps towards this goal was by joining Mars Inc on a management training program in Dubai. From here, I as able to go back to Egypt as a part of the team responsible for launching Mars Inc operations there. After a successful period of growth, I moved to Jordan and took over the management, distribution and trade marketing for Mars Inc in Jordan and Lebanon.
MBI Al Jaber Scholarship, an MBA... and Beyond
The MBI scholarship opened so many doors for me. It enabled me to study for an MBA at the INSEAD Business School and attend modules in both France and Singapore, and participate in a student exchange scheme at Wharton Business School in the United States of America. In addition to bolstering my academic and business knowledge, the MBA also opened up my horizons to new friends and colleagues from all-over the world, helping me to further develop my interpersonal skills and global exposure.

After completing the MBA, I joined Bain & Company as a strategy consultant in the Paris office, focusing on new clients in the Middle East... and working on a variety of projects in private sector development, strategy, organization and M&A across France, Spain, Qatar, Kuwait and the UAE. After gaining this experience, I was offered the chance to return to Mars Inc and lead a new startup in Algeria. Here I recruited and managed a team of 50 people, and went on to gain a 12% market share in our first year of operations.
Return to Egypt... a New Career

It was always my intention to return to Egypt and build my own business. I wanted to both strike out on my own... and contribute something to my home country. On returning, I started up an investment bank and strategy consulting firm called Enmaa Financial Services, which built on all of my previous experiences. Our first 4 years were of tremendous success, and we closed transactions and delivered consulting projects for over 1.2 B LE with a team of 20 people between our Egypt and KSA offices.

Besides Enmaa Financial Services, I became an angel investor, financing different startups in service companies, the most notable of which were a CSR company in Egypt, a digital advertising company in Egypt, a PR agency in Algeria, and a world music and dance school in the US (http://www.zambaleta.org) .

At the same time, I began studying for my Doctorate of Business Administration at IE Business School in Spain. Here I focused on finance and entrepreneurship and wrote and published several business and academic papers. To build on my academic experience, I also started designing and teaching innovative undergraduate and executive courses at the American University in Cairo.

In addition, I managed to maintain my social activities by participating in different committees of the American Chamber of Commerce and the Egyptian Junior Businessmen association... and also started the INSEAD alumni chapter in Egypt.

During this time, I also spent a good portion of my time working on volunteer projects all-over Africa, South America and Asia with various NGOs like Habitat for Humanity in Chile, La Milagrosa in Venezuela, Coup de Pouce in France, TechnoServe in Mozambique, Antelope Park in Zimbabwe, Injaz in Jordan, CRTP in Mongolia, Nahdet El Mahrousa, Endeavor and Am Cham in Egypt.

Revolution & Departure from Egypt

The Egyptian revolution took place in January 2011. I had returned to my country to help build for a brighter future and the dawn of a new era... unfortunately, from a business perspective, the revolution put most of my work on hold.
We tried to hold the course for 6 months, but then had to downsize and close down our KSA operations to cut costs and survive. Even though Enmaa Financial Services was very profitable to all shareholders, including myself, I foresaw a period of very slow growth in Egypt that would eventually impact our company in Egypt. Therefore I decided to become a silent shareholder and board member at Enmaa, and seek work elsewhere.
From here I joined Philip Morris International at their HQ in Switzerland in January 2012, and moved as General Manager for Jordan and Palestine in August 2012, to lead a post-acquisition turnaround for a factory Philip Morris acquired in Jordan the previous year.
Jimmy Dean says "I can't change the direction of the wind, but I can adjust my sails to always reach my destination." I hope my new journey with Philip Morris will keep me in the Arab region for now... and at some point in the future, enable me to return to my beloved country, so I can help further it's social and economic development.