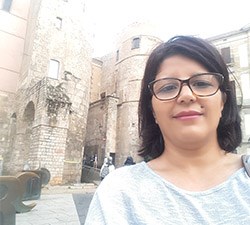 The MBI Al Jaber Foundation recently made a 'Small Grant' award of £1,500 to one of its Alumni members, Lobna Ben Salem, who has recently been invited to the Department of Middle Eastern & South Asian Languages & Cultures at the University of Virginia as a Visiting Researcher.  During her one-month stay, Lobna will present several talks of her choice to colleagues and students.
Farzaneh Milani, the Raymond J. Nelson Professor of Middle Eastern and South Asian Languages and Cultures, wrote to Lobna stating that the department is excited at the prospect of having her join them as a research visitor.
Lobna is an Assistant Professor of Literature at the University of Manouba in Tunisia.  During 2013, she embarked on an ambitious new research project, Trauma Studies and Postcolonial Women's Literature which, as she remarked at that time, "promises to be a long but interesting endeavour!" Lobna was awarded an MBI Al Jaber Foundation scholarship during 2000 enabling her to study for an MA in Comparative Literature at SOAS.
The MBI Al Jaber Foundation, in keeping with our core values, continues with commitment to our Alumni long after they have completed their scholarships.  We strive to maintain links with all those who benefit from the Foundation's work and to support them as they progress in their chosen careers.