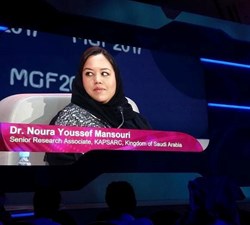 Dr Noura Youssef Mansouri has recently taken part in the Misk Global Forum, which is an ongoing platform that brings young leaders, creators and thinkers together with established global innovators to explore, experience and experiment with ways to meet the challenge of change.
The panel Noura took part in was named "Planet Earth, Our Shared Responsibility" and dealt with the impact that human activities are having on the planet. Specifically, Noura's contribution touched on the issue of individual responsibility. People ought to rely on their efforts and be mindful of natural resources and restore balance to the environment – especially by recycling -  so as to hand a "clean" world over to the next generations.
Noura is a Senior Research Associate at KAPSARC and Visiting Scholar at MIT's Mechanical Engineering department. Previously, she served as manager of strategy and marketing at Areva, where she was responsible for the nuclear sector in Saudi Arabia. Noura received the 2015 "Women's Excellence Leadership Award" under the category "Rising Stars" and was appointed Future Energy Leader in the same year at the World Energy Council. She is also a Board Member at Women in Clean Energy under the Clean Energy Business Council for MENA. Noura was awarded an MBI Al Jaber Foundation scholarship in 2003 and now holds a PhD from Queen Mary, University of London. Her thesis was published as a book, Greening the Black Gold: Saudi Arabia's Quest for Clean Energy.