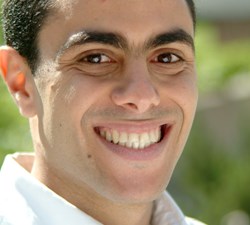 From: Egypt
Graduated: 2003
University: INSEAD
Course: MBA 
Alaa is CEO of the retail chain Kayzon, as well as Co-founder and Board member of Checkmate. After completing his MBA at INSEAD, Alaa joined Bain & Company as a Strategy Consultant in their Paris office, focussing upon new clients in the Middle East and working on a variety of projects in private sector development, strategy, organisation and M & A across France, Spain, Qatar, Kuwait and the UAE.
After gaining such experience, he decided to return to Mars Inc., where he worked before taking his MBA. Alaa was employed to lead their 'start-up' company in Algeria where he recruited and managed a team of 50 people. The team gained a 12% market share in their first operational year!
Alaa then decided to start up an investment bank/strategy consulting firm called Enmaa Financial Services whose first 4 years were a 'tremendous success'. At about the same time, he became an angel investor, financing different 'start-ups' in service companies, the most notable of which were a CSR company in Egypt, a digital advertising company in Egypt, a PR agency in Algeria, and a world music and dance school in the US.
Alaa also studied for a PhD in Business Administration at the IE Business School in Spain, focusing upon finance and entrepreneurship and published several business and academic papers. He cemented his learning by designing and teaching different innovative undergraduate and executive courses at the American University in Cairo.
In addition to pursuing his career, Alaa has spent time leading a children's camp in Maniapure - a city in Southern Venezuala, teaching them crafts, sports and educational topics; has worked on a cultural restoration project in Baladan Bairavan, Mongolia, restoring cultural heritage buildings; and has been to Zambia, Zimbabwe, Botswana, South Africa and Swaziland working on an environmental development project, breeding and saving lions. While there, he lived with some indigenous tribes, which he believes was 'a superb cultural exchange experience!'
A keen sportsman with national medals in different Track and Field events and a former member of the Egyptian Karate Youth National Team, Alaa states that his year at INSEAD was exciting not only as he was able to study for an MBA, but also because he was able to train with the Fontainebleau local athletics team.
He also learned to ski and rock climb and took the opportunity of taking part in several diving trips in south-east Asia while studying at the Singapore campus. Alaa believes that his MBI scholarship was of categorical importance. The MBA at INSEAD not only added to his academic and business knowledge, but also opened up his horizons to friends and colleagues from all over the world and helped him develop his interpersonal skills and global exposure
Experience
Chief Executive Officer
Kazyon, Tawfeer for Food Products - Egypt
January 2016 – Present

Kazyon is a newly founded Discounter Retail Chain in Egypt with 125 stores across 9 governorates, with a team of 1,400 employees.

Co-founder and Board Member
Checkmate - Egypt
December 2015 – Present

Your screening partner in the Middle East and Africa; helping you make informed hiring decisions on:
Reference Checks
Employment Verification
Education Verification
Candidate Hiring Experience
Public Information Media Check


General Manager and Chairman of the Board of Directors
Philip Morris International - Jordan and Palestine
August 2012 – August 2015

Corporate Affairs Director, North Africa and the Levant
Philip Morris International - Switzerland
January 2012 – August 2012

Founding Partner and Managing Director
Enmaa Financial Services - Egypt and Saudi Arabia
2007 – 2012

Market Manager
Mars Incorporated - Algeria
January 2005 – December 2006

Strategy and Management Consultant
Bain & Company - France
2004 – 2005

Business Development Manager
Mars - Jordan
2002 – 2003

Sales Manager
Mars - Egypt
2001 – 2002

Shift Leader, production
Mars - Dubai
1999 – 2001
Education
IE Business School
Doctorate of Business Administration Candidate, Finance and strategy
1999 – 2016

University of Pennsylvania - The Wharton School
MBA exchange student
2003 – 2003

INSEAD
Master of Business Administration (MBA), Strategy
2002 – 2003

The American University in Cairo
Bachelor of Science (BS), Construction Engineering
1994 – 1999