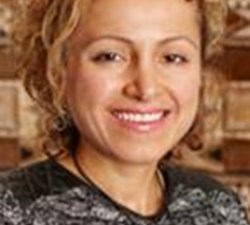 From: Lebanon
Graduated: 2004
University: AUB
Course: Masters Public Health
After graduating from AUB in 2004, Talar worked on a doctoral research programme in Health Policy and Administration at the School of Public Health, University of Illinois, Chicago and is now a member of the Loyola University Chicago Health Sciences Division.
She was awarded her PhD in 2009. Concurrent with her studies, she worked as a Graduate Research Assistant.
Talar is a regular reviewer for the following publications: The Cost-Effectiveness Analysis Registry, Tufts Medical Center, Boston MA; Cancer, Value Health; The Journal of Rural Health; Journal of Health Care for the Poor and Underserved; Health Care Management Review; Public Health; Applied Clinical Informatics, and the Journal of Palliative Care and Medicine.
She has been a Member of the American Public Health Association since 2008 and also of the Academy of Health since 2009.
She is a Member of the Statisticians' Involvement in Evidence-based Public Health Practice Committee, Statistics; of the Section of the American Public Health Association, and of the Health Policy and Management Council, Association of Schools of Public Health.