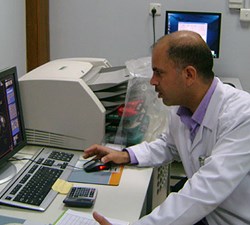 From: Iraq
Graduated: 2008
University: UCL
Course: MSc  Radiation Biology
Tariq returned to Iraq after graduating from UCL in 2008 with a Distinction in his MSc in Radiation Biology. On his return to Iraq, he was awarded a scholarship from the Department of Radiation Oncology and Biology, Carl Gustav Carus Faculty of Medicine, at the Technical University of Dresden.
The important training that Tariq received from both UCL and the Technical University of Dresden has provided him with highly respected technical skills and he is one of the first Iraqi oncology radiotherapists to train and qualify in Europe.
He is currently working as an Assistant Lecturer of Radiation Oncology & Radiation Biology at the Radiology Department, Mosul College of Medicine, in Mosul City. With his new skills, Tariq hopes to be able to help the many cancer sufferers in Iraq.