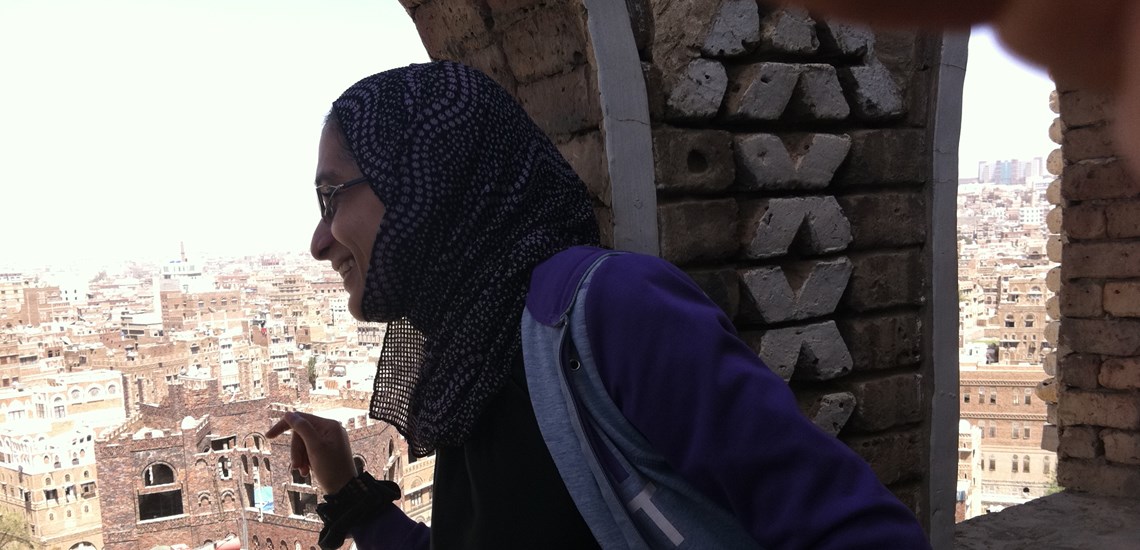 Fahmia Al-Fotih: From a One-Room School in Yemen to the United Nations. 
I was born in a very tiny mountainous village in Yemen. I was the first daughter and the third child of eight siblings. Before I went to school, I had my "kindergarten" under a tree where an old man used to teach us Arabic alphabets and memorize Qur'an verses. I still vividly remember the one-hour walk to the only school on top of a mountain. The school was attended by children from all the surrounding villages, there were no chairs or tables at all, and we used to sit on cold bare floor.

Despite the fact that I was just five years old, in addition to my schooling I had to fetch water, graze animals, work on the harvesting, and help my mother out with different work around the house. Girls traditionally had to focus on their "natural and main duties" that would prepare them to be good housewives. Therefore, as a child, I have never imagined a world existed beyond my small village... or that one day I would go beyond the borders of my country.

In a society where girls are deprived from enrolling into schools, my high school was quite exceptional and I was the only girl in all boys school (the maximum education a lucky girl could obtain was up to the 6th grade). I thank God that my dad was very supportive, exceptionally different and extremely open-minded. My father, who was a student when I was born, struggled to educate us, and insisted that we go to school, work hard and do our very best.
Coming from uneducated parents himself, dad appreciated education and believed in the remarkable power of education for girls and boys equally. He instilled that in all of us. So, throughout high school I maintained a high level of academic achievements. I've thirsted for knowledge since childhood, and when I finally finished high school, my craving grew.

The girls, who used to study with me in first grade, are now mothers of five or six kids! It is unbelievable but it is normal and acceptable here in Yemen. I believe I was the extremely lucky to escape that fate.

Going to university was not easy either, I wanted to go to Media school but I was not welcomed into a male-dominated society where they demeaned women. I had to study English literature instead, to be a teacher. I had to commute an hour and a half to the university each day. While I was at the there, I started to contribute to the first English newspaper in Yemen. Upon graduation, I became a journalist, the only female reporter in the newsroom. Journalism was like a shelter through which I could freely and openly express my opinions... and try to make a difference in people's lives, to bridge the gap and spread understanding. And of course, to correct stereotypes and stagnant traditions. In addition to journalistic activities I taught various classes to young girls and boys, which, for me, was an excellent combination.

During high school and university, I do not recall a day without harassment or insults for being in the public domain, for not covering my face and for going against social norms. The hardships I faced made me grow into a strong woman, questioning the status quo and doing all I can to change the injustices I find. I had a dream and I have striven for academic excellence, always wishing to make the most of my education. 

Winning the MBI Al Jaber Foundation scholarship was a turning point of my life. For three years, I kept trying to apply for scholarships but I always missed the deadlines. The third time, I was so determined that I constantly kept my eyes on MBI website. The selection process took so much time that I started to lose hope. But, then I made the shortlist... and from there I won, on merit. I was so proud.

I chose London and the University of Westminster to do my MA, and was lucky enough to be accepted. I have chosen an education in international relations because I want to play a part in helping to shape the future of our planet; to take part in important dialogue and policy making.

My course in International Relations was a challenge because I did not have a previous degree in political science. However, it was a new, fascinating experience and I relished the challenge. I was engulfed by an educational system vastly different from the traditional one back home in Yemen... and I was overwhelmed by the diversity of cosmopolitan London, gender equality, freedom and human rights; things that simply do not exist in my culture. I studied with culturally-diverse classmates from all over the world, which enriched my understanding of many other communities and walks of life. I had a chance to live with a very lovely British family and experience the warmth and closeness of their culture.
Studying in London at University of Westminster has liberated me and allowed me to not only explore a wider array of subjects, including media, gender and politics, but also explore myself. I learned how I think globally and act locally. The amazing thing was that I had been appointed as Westminster Ambassador for the academic year, and it made me feel that I could be an ambassador for real in Yemen. Not only was I involved with academic and extracurricular activities, I had a part-time job at the IELTS center at my university. It was an invaluable experience.

The blessings of the MBI scholarship were overwhelming and are continuous. The MBI Foundation helped me to attend a conference in London where I met and networked with many marvelous people who helped me to further develop my career. Upon my return, one of the founders of Women Without Borders, whom I first met in London, contacted me... resulting in the launch of SAVE-Yemen (Sisters Against Violent Extremism), the first anti-terrorism platform for women. I ran the Yemen SAVE chapter and represented it at a number of international events, but due to the popular uprising and the deteriorating security in the region and Yemen, we had to halt our activities.

Currently, I am working with the United Nations Population Fund (UNFPA) as a communication analyst, promoting and raising awareness about reproductive health, reproductive rights, gender and population issues, in order to help reduce maternal mortality in Yemen (which is one of the highest in the region). In addition I also help the the UNFPA country office to improve their communication and information processes and activities. As we are working on a range of issues, I also promote UNFPA's policy, program implementation and work with a wide range of partners, civil servants, media organisations and members of the public. It is a challenging job as the mandate of UNFPA is culturally-sensitive, so expert communication plays a vital role in addressing all the issues in play.

In the midst of unrest and popular uprising in the region, I have also had a chance to take on the youth portfolio within UNFPA. Through this I have had the opportunity to work with many young people; designing a range of projects and programs for them. this work is both inspirational and fulfilling, and has taught me a lot. 

Recently, I have been nominated to participate in the prestigious "International Visitor" program under the theme of "Education and Activism for Young Women" over in the United States. It is a multi-regional program in which more than 17 countries take part. It is an honour to be given the chance to represent my country in such high-level programs. It has been a golden opportunity to get to know the US culture, education system, politics, civic society and much more.

I truly hope that all my work and efforts will help build for a brighter future for women, men, children and young people all over Yemen. I hope to continue serving my people in Yemen and trying to make a positive difference in their lives, so I can one day return the favours that have been bestowed on me.